As an Indigenous coffee company, White Buffalo Coffee Co. recognizes the significance of Indigenous holidays. In particular, we honour Truth & Reconciliation through our work and with our partners in supporting and contributing to:
National Indigenous Veterans Day, November 8th
The National Indigenous Veterans Day was created to honour the important contributions made by First Nations, Inuit and Métis Veterans in service to Canada.
Indigenous Veterans Remembered
Indigenous veterans volunteered their efforts in World War I, World War II, and the Korean War. Not recognized as Canadian "citizens," they were not conscripted to the army but many volunteered anyways. An estimated excess of 12,000 Indigenous people volunteered in the three wars and continue to serve the Canadian Forces today.
Indigenous Peoples are among the highest decorated soldiers, aviators, and sailors, such as: Tommy Prince, Henry Norwest, and Debbie Eisan. Even at home, Indigenous people donated items such as money, clothes, and food.
Blood Tribe recruits, 191st Battalion, Canadian Expeditionary Force, Fort Macleod, Alberta. (Photo and caption: Glenbow Archives, NA-2164-1)
Warrior skills
Many Indigenous men brought valuable skills with them when they joined the military. They possessed well-honed traits like patience, stealth and marksmanship for those who grew up in communities where hunting was a cornerstone of daily life. These attributes helped many of these soldiers become successful snipers (military sharpshooters) and reconnaissance scouts (men who stealthily gathered information on enemy positions).
Code Talkers
While Indigenous soldiers again served as snipers and scouts during World War II, they also took on interesting new roles. One unique example was being a "code talker." Men like Charles Checker Tompkins of Alberta translated sensitive radio messages into Cree so they could not be understood if they were intercepted by the enemy. Another Cree-speaking "code talker" translated the received messages back into English to be understood by the intended recipients.
Rights Taken Away from Indigenous Veterans
After the First World War, returning veterans did not receive the same assistance as other returned soldiers under the War Veterans Allowance Act. This policy endured from 1932 until 1936. Upon returning home from the Second World War, many First Nation veterans found they were no longer considered Indians because the Indian Act specified those absent from the reserve for four years were no longer Indians.
Between the two world wars, an Order-in-Council forced the sale of Indian reserve land to the Soldier Settlement Board for non-Indigenous veterans who wished to farm. Many more thousands of acres were leased to non-Indigenous farmers for up to five years to promote greater agricultural production for the war effort.
Many status Indian soldiers became enfranchised before they could sign up to fight in the Second World War. As a result, they no longer had Indian status when they returned to their home communities after fighting.
They also did not have the right to obtain other benefits available to non-Indigenous veterans due to Indian Act restrictions. Between 1932 and 1936, Indigenous veterans on reserves in need of help, were treated like everyone else on reserves rather than as veterans. Many Second World War veterans re-enlisted for the Korean War simply because they were unable to re-enter their previous lives. The lives of numerous Indigenous veterans ended in despair and poverty due to this unfair and unjust treatment.
Canadian Rangers
Nowadays and closer to home, Indigenous military personnel fill a wide variety of roles, including serving with the Canadian Rangers. This group of army reservists is active predominantly in the North, as well as on remote stretches of our east and west coasts. The Rangers use their intimate knowledge of the land to help maintain a military presence in difficult-to-reach areas, monitoring the coastlines and assisting in local rescue operations.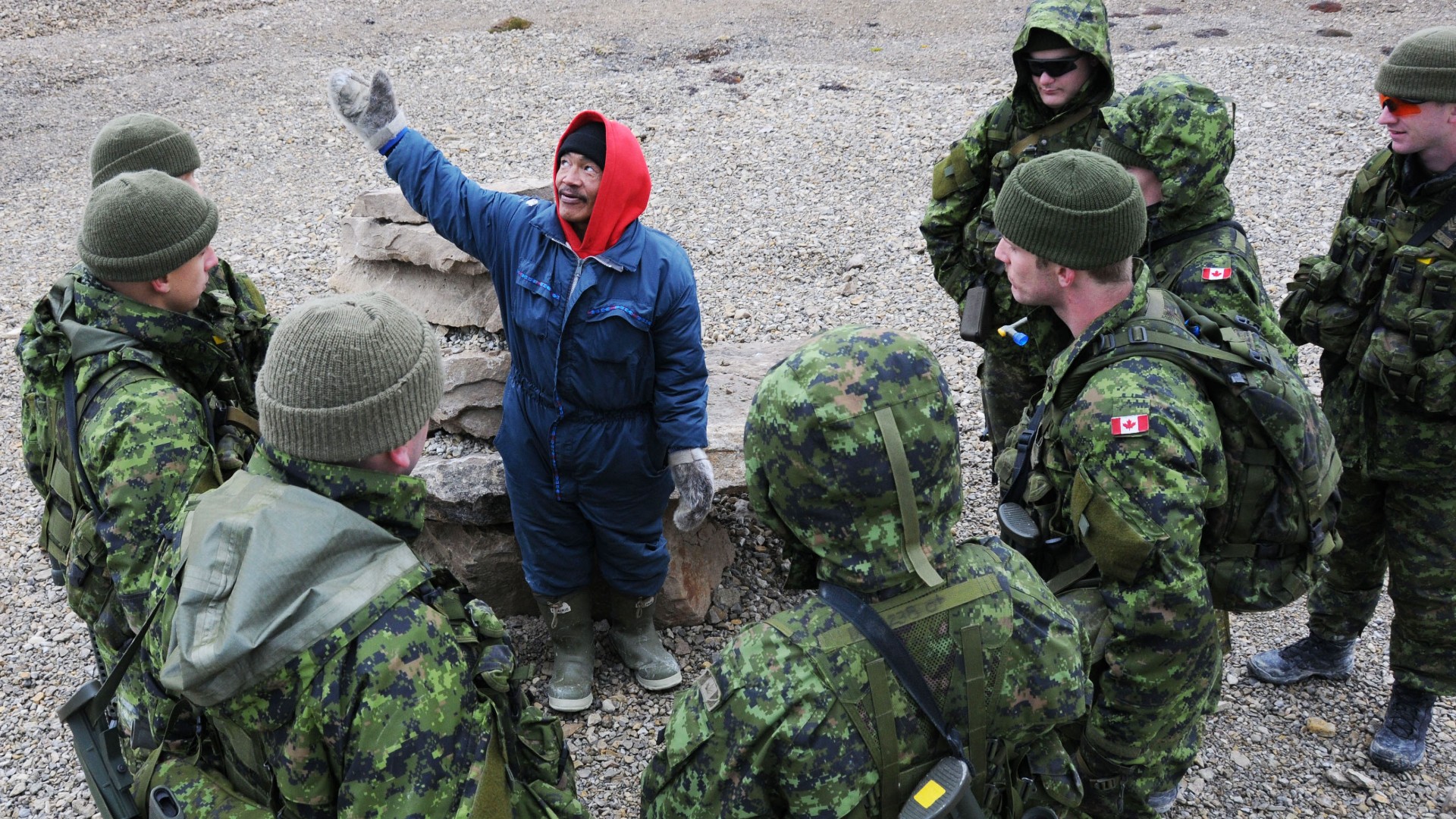 Paul Atagoota of 1 Canadian Ranger Patrol Group shares his knowledge about Inukshuks with the soldiers of 32 Brigade in Resolute Bay, Nunavut, during the 2010 iteration of Operation Nanook, a recurring Canadian Forces operation that takes place in northern Canada. (Sgt Marco Comisso/Canadian Armed Forces)
Indigenous Veterans Acknowledged
Today, we acknowledge the history and military service of Indigenous Peoples in Canada. Indigenous Veterans Day began in 1994 in Winnipeg and has grown to become a national day of remembrance. We acknowledge the Indigenous men and women who volunteered their efforts to WWI, WWII, the Korean War, and to all those who have served in both past and present day. We raise our hands to recognize your service, your struggles, and your sacrifice. 
Indigenous Veterans Defined
White Buffalo Coffee Honours Indigenous Veterans
Every Indigenous Veterans Day, we donate coffee to local veterans organizations like the Legion in remembrance of the proud military history of the Indigenous Peoples in Canada. We acknowledge and recognize the sacrifice by First Nations, Métis, and Inuit Veterans. We acknowledge the importance of legions as a place of gathering and community to serve Indigenous Veterans and promote remembrance and reconciliation.
How You can Honour Indigenous Veterans
There are many ways to show your support on Indigenous Veterans Day, including: